DHAKA TOTEM IS ALREADY PUBLISHED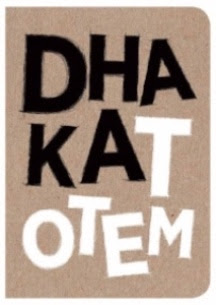 Just published. Grab your copy!
By Adnan Morshed, Amparo Porta, Basurama , Héctor Fernández Elorza, Iñaki Alday, J. Arcos, Javed Jalil, J. Sánchez Merina, J.M. Aparicio Guisado, Kuntal Barai, Maksuda Iqbal Nipa, Marian Planelles, Paco Mejias Villatoro, Pierre Auclair-Desmoulins, Rensje Teerink, R. García Rubio, Sajid-Bin-Doza, Salma Abedin Prithi, Shahidul Alam, Silvia Rovelli, Tanzil Shafique and Tor Torhaug. An Altrim and AECID (Spanish Agency for International Development Cooperation) book.
If you open this book on a random page, without a plan, in an attempt to satisfy the curiosity that we may have been able to awaken with the haphazardly arranged letters of the title on the cover. You might have wondered whether this is a travel guide, a book of short stories or a collection of essays on the city after which it has been named. Our first objective in this edition is to arouse curiosity among readers and visitors of bookshops and libraries. If we managed to achieve that goal through the graphical layout of the cover, we may as well reveal now why it is called Dhaka Totem, and we would like to invite you to roam through its pages in the unknown and enigmatic capital of Bangladesh. Welcome on board.